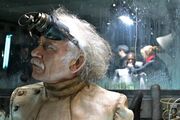 Dr. Richter is Renate Richter's father and chief scientist at Schwarze Sonne, and the inventer of the USB cord used to connect James Washington's smart phone to the Götterdämmerung. The Dr. also has a keen interest in James Washington's brain. He is presumably killed in the crash of the Götterdämmerung.
Ad blocker interference detected!
Wikia is a free-to-use site that makes money from advertising. We have a modified experience for viewers using ad blockers

Wikia is not accessible if you've made further modifications. Remove the custom ad blocker rule(s) and the page will load as expected.