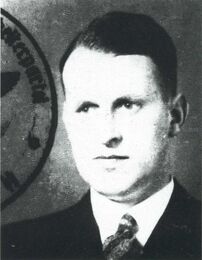 General Dr Ing. Hans (Heinz) Friedrich Karl Franz Kammler (26 August 1901 – ?) was a civil engineer and high-ranking officer of the Schutzstaffel. He oversaw SS construction projects, and towards the end of World War II was put in charge of the V-2 missile programme. Secretly, he was also in charge of the building of the Base 211 on the Antarctica, and oversaw the antigravity research project known as the Nazi Bell.
Hans Kammler disappeared shortly before the end of the Second World War, along with his research. He was believed to be dead or taken as a prisoner of war to either Russia or USA. In fact, he and the Nazi Bell research were transported to Antarctica, to the Antarctic Nazi Base, where he perfected the research and begun the operation to send Nazis to the Moon to build the moon base Schwarze Sonne.
He is most commonly referred to as Heinz Kammler or Hans Kammler.
Appearances
Edit
External Info
Edit
---