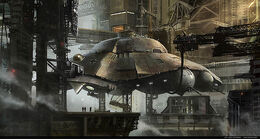 By 2018 the next generation of Fourth Reich spacecraft was in service. Building on the experiences of the Haunebu III, the Hanebu IV was the main troop transporter for the invasion of Earth. With a diameter of 80m and an improved interior it could transport and support up to 70 troops for the planned ground assault.
Specifications
Edit
Crew: 6 (pilot, co-pilot, gunners)
Speed: over 12 000 km/h
Armament:

4 x 88mm auto cannons
Rocket pods.

Troop carrying capacity: 70 stormtroopers.
Ad blocker interference detected!
Wikia is a free-to-use site that makes money from advertising. We have a modified experience for viewers using ad blockers

Wikia is not accessible if you've made further modifications. Remove the custom ad blocker rule(s) and the page will load as expected.